Florence Nightingale Day 2024 at Simon Fraser University is coming up! This one-day event is part of an international celebration that gives high school students, especially those from traditionally under-represented groups, a chance to explore educational and career opportunities in statistical sciences. It is named after Florence Nightingale, the widely known founder of modern nursing who was also a ground-breaking statistician credited with inventing the pie chart.
In British Columbia, Florence Nightingale Day 2024 will be co-hosted on Friday, February 9, by the Canadian Statistical Sciences Institute (CANSSI) and Simon Fraser University (SFU)'s Department of Statistics and Actuarial Science. The event will take place at SFU's Burnaby campus and will include fun hands-on activities, panel discussions featuring university students and professionals, and opportunities for participants to talk to university students about their experiences and interest in studying statistics. The day has three goals:
To give high school students an understanding of the strong benefits of studying statistics for their future career paths
To give high school students a glimpse of what studying statistics in university is like
To promote diversity in statistics and data science by encouraging and inspiring high school students from all communities to explore statistics
High school students will hear what it's like to study and work in different areas of statistical sciences, and they will have the opportunity to ask questions and talk directly with statistics students and professionals. The day will also give them a chance to explore the uses of statistics through engaging games and activities. Lunch is free for all participating students and teachers!
What Happens at Florence Nightingale Day
What does the event look like? Check out these photos from Florence Nightingale Day 2023.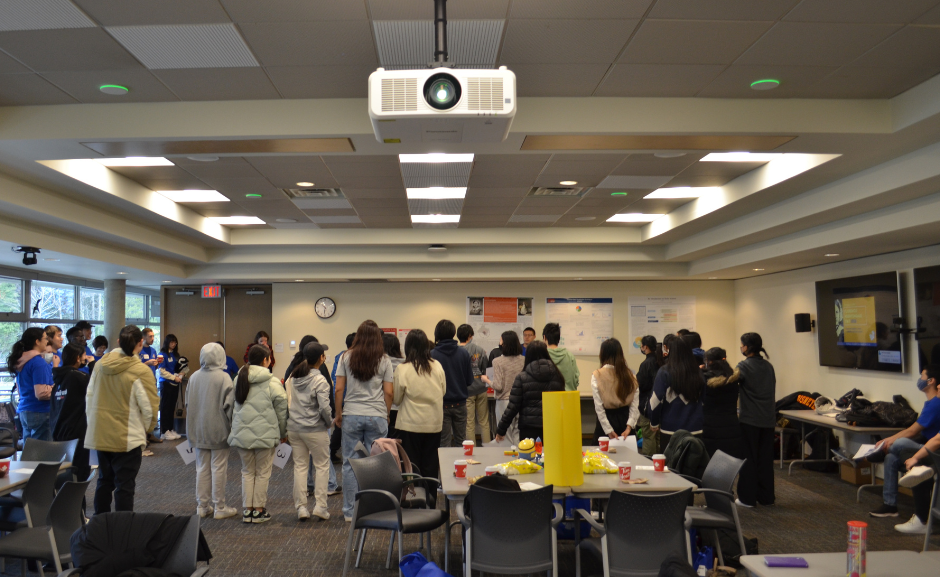 How to Participate
Space is limited for this event, and we can't guarantee that everyone who signs up will be able to participate. Please use the links below to express your interest, and we will follow up to confirm your participation.
High School Teachers
If you would like to bring your class or a group of students to Florence Nightingale Day 2024, we can make it easy by providing transportation and a free lunch for you and your students.
To express your interest, please fill out this form and we'll contact you.
Students
If you would like to attend on your own, please sign up here and we'll contact you.
Volunteers
We are looking for individuals to help us plan and organize the activities for this event.
If you are interested in helping out either before the event or on the day, please sign up here to get more information.
Schedule of Activities
(Tentative schedule; all times are Pacific Time)
Time
Activity
9.30–9:45
Registration
9:45–10:15
Welcome and Icebreaker Game
10:15–11:00

Undergraduate and Graduate Student Panel

Sonia Dosanjh (Undergraduate, Political Science with minor in Social Data Analytics)
Juliet Fowler (Master's Student, Computational Neuroscience)
Valerie Kistrina (Undergraduate, Computer Science)
Kathleen Moody (Undergraduate, Criminology)
Hasha Peiris (PhD Candidate, Actuarial Science)
Ryan Smith (Undergraduate, Psychology)

11:00–11:15
Break
11:15–12:30
Interactive Activities
12:30–1:15
Lunch
 1:15–2:00

Career Panel

Haley Boyce (Data Scientist, Slalom)
Kristen Bystrom (Data Scientist, Yelp)
Kimberly Kroetch (Data Scientist, SMT (SportsMEDIA Technology Corp.))
Ying Li (Analyst, Statistics Canada)
Lin Zhang (Professor, Statistics and Actuarial Science, Simon Fraser University)

2:00–2:15
Wrap-up
2:15–3.15
SFU Campus Tour
About Florence Nightingale Day
Florence Nightingale Day was launched in the U.S. in 2018. Since then, it has become an international one-day initiative with in-person activities for local high school students organized at colleges and universities and virtual activities for students from all over the world. In the U.S., it has been celebrated at a number of institutions, including Ohio State University, Harvard University, and the University of Texas at Dallas. In Canada it has been celebrated at Simon Fraser University and at the University of Toronto (co-sponsored by CANSSI Ontario). CANSSI is a major co-sponsor and co-organizer of Florence Nightingale Day together with the Caucus for Women in Statistics and the American Statistical Association. It's part of our developing effort to attract under-represented and disadvantaged high school students to study statistical sciences. Our vision is to expand Florence Nightingale Day to become a national event involving high school students across Canada.
In 2024, CANSSI will support events at Simon Fraser University, the University of Toronto, and potentially other universities. Our goal is to expand the number of sites each year. Check out these photos from the Florence Nightingale Day 2023 celebration organized by CANSSI and the Department of Statistics and Actuarial Science at SFU.
For an international list of upcoming Florence Nightingale Day celebrations, visit this page.